Series 66 Exam Prep
How To Earn Your FINRA Series 66 License
If you are looking to enhance your career in the financial services industry, then you probably are wondering how to pass the Series 66 examination. Who takes the Series 66 and why, what material is covered in the Series 66 exam material, and what are some Series 66 exam test preparation tips that will increase your chances of passing the Series 66 test on your first try?

About The Series 66 License

The Series 66 license is known formally as the Uniform Combined State Law license and is a FINRA requirement for individuals who wish to function both as a Securities Agent and an Investment Advisor Representative, capable of receiving a fee for their advice/services. The license and exam cover topics relevant to providing investment advice and effecting securities transactions for clients.

Please note that in order to earn your Series 66 license, you'll also need to hold your Series 7 license. There is no order in which the Series 7 and Series 66 must be taken.

Bank Training Center provides numerous Series 66 exam prep courses - such as Series 66 seminars, Series 66 online courses, and Series 66 virtual packages - to help you pass your Series 66 exam and earn your Series 66 license.

About Your Series 66 Exam
Series 66 exam preparation can be either in seminar, self-study, or online interactive formats

In addition to the time spent on practice tests, the average preparation time for Series 66 exam is 40-60 hours

Series 66 candidates are not required to be sponsored to sit for the licensing exam; if you are not affiliated with a brokerage firm registered with FINRA, you must submit a Form U10

Exams for your Series 66 license can be scheduled at any Prometric test center nationwide
Recommended Series 66 Courses & Available Training Options
To find training for earning your Series 66 license, including Series 66 classroom preparation or Series 66 exam material, simply click on any of the recommended courses below, or search under "Licensing/Designations" in the search box thereafter for "Series 66".

Good luck on your Series 66 exam!
Recommended Training Courses: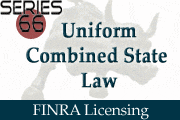 In-Person Seminars, Workshops, And Video Conferences
Webinars Or Audio Conferences
Self-Study Materials
Find Seminars, Webinars, And Online Training In Your Area
Series 66 Exam Requirements and Information
Number Of Questions: 100
Duration: 150 Minutes
Format: Multiple Choice
Passing Score: 73
Cost: $165
You do not have to be sponsored by a FINRA member firm or other applicable self-regulatory organization (SRO) member firm to be eligible to take the Series 66 exam.
Series 66 Exam Outline
The FINRA Series 66 exam is broken into four major parts:
Economic Factors and Business Information
Investment Vehicle Characteristics
Client/Customer Investment Recommendations and Strategies
Laws, Regulations, and Guidelines, Including Prohibition on Unethical Business Practices
Share on Facebook
Share on Twitter