Enhance Your Career With An Insurance License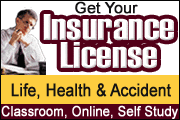 Insurance licensing and pre-licensing requirements are mandated on a state level; thus each state has an Insurance Commissioner's office that administers and updates these insurance licensing regulations.

Bank Training Center delivers state-specific insurance licensing and insurance training courses for help in earning or maintaining your Life Insurance License, Health Insurance License, or Variable Annuity License (note: variable annuity licensees must also complete securities licensing qualifications in various states to become eligible to solicit variable annuities).

If you are interested in attaining your Insurance License (Life/Health or Property & Casualty) or Adjuster license, we can help! To find the right insurance course for you, select your resident state below:



So whether you are just getting into the business and need insurance licensing training, want to expand your knowledge with insurance certifications/designations, or need to maintain your insurance license with continuing education (CE) courses, Bank Training Center offers insurance training solutions specific for your career stage, needs, and more! Enjoy a successful insurance career when you invest in insurance training now.
Recommended Insurance Licensing Courses & Available Training Options
Bank Training Center offers numerous Insurance Licensing preparation courses to help you become licensed in Life Insurance, Health Insurance, Property & Casualty Insurance, or Adjuster licensing, plus designations and CE courses to enhance your career.

Simply search under "Licensing" or "Designations/Certifications" below for your desired subject. Make sure to choose your own state, as courses and requirements may vary by state.