Deposit Compliance Training Courses
Best-Selling Training Courses: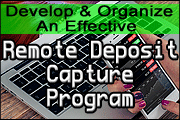 Instructor-Led: Webinars
Bank And Teller Deposit Compliance
What Is Deposit Compliance

Deposit compliance refers to the rules and regulations governing deposits received by banks. Bank deposit regulations cover:
Privacy
Savings, Checking, and Money Market accounts
Rules for credit cards, debit cards, and gift cards
Credit Reporting
Depository Services
Fair Lending
Foreclosure Prevention
Fraud Resources
Mortgages
Truth In Lending
What Are A Bank's Compliance Requirements For Tellers

Tellers have to be familiar with many laws and requirements affecting deposits and various deposit regulations, including the Bank Secrecy Act and Regulation CC. These bank regualtions include and cover:
Check holds
Endorsements
Stop payments
Stale or post-dated checks
Suspicious activity
Luckily, the BankTrainingCenter offers numerous teller training and deposit compliance training courses. Simply look at one of the recommended courses above or use the search box to find your desired bank training courses.
About Our Deposit Compliance Training Courses
When you open a deposit account, many compliance issues come into play. These issues can cost your institution thousands of dollars in fines and liability if you do not realize how each piece fits.

Our Deposit Compliance training courses cover the various tasks involved with deposit compliance issues, including the rules and regulations, account opening procedures, overdraft practices, and other account management issues.

What You'll Learn From Our Deposit Compliance Training Courses:
Understanding the key elements of your RDC Program

Understanding the FFIEC Risk Management of RDC guidance

Customer due diligence and suitability

Information security issues

Thoughts and considerations for a mRDC program

IRS Name Control Match

NRA and W-8 BENs

Red Flags for Identity Theft

Regulation CC Holds on Deposit Accounts

Regulations Disclosures at New Accounts

Regulation GG Certification

ODP and Opt-IN for Regulation E

Adverse Action Notices

Common errors on account titling and ownership and checks

Overdraft practices

Complaint management programs

Online opening of accounts

W-8 BEN and W-8BEN E

What to do when the joint customers no longer want to be joint?

Who has the right to remove names at death?

How to close an UTMA account?

What to do when customer's want to remove a signer?

What are the proper steps for adding a signer?
Find Deposit Compliance Training Courses
To find your desired Deposit Compliance training courses, either select a Recommended Course from the list below, or select "Deposit Compliance" and your state from the "Professional Development" section of the search box at the bottom of this page.
Best-Selling Training Courses: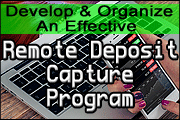 Instructor-Led: Webinars
Find Seminars, Webinars, And Online Training In Your Area
About Deposit Compliance
What Are The Types Of Deposits In Banks?
There are several different types of deposit accounts, but essentially you have four types: savings accounts, checking accounts, money market accounts, and certificates of deposit (CDs).
Bank Deposit Regulations
Checking, savings, CDs, and money market accounts of are governed by banking rules and regulations. Several rules apply, including:
Regulation CC - Check Holds
Under Regulation CC, bank deposit regulations apply when a deposit is made into a consumer's bank account. According to the FDIC: "In general, funds are not immediately available but are available sooner if the deposit is cash, a cashier's check, or a government check. It may take longer to access the funds if the deposit is a check from an out-of-state bank."
FDIC Protection
Banks are allowed to use "FDIC" or "Member FDIC" or 'FDIC-insured" when marketing an FDIC-insured product, like a certificate of deposit
Error Resolution For Electronic Fund Transfers
Both banks and consumers have a responsibility to avoid and correct any account errors, like an unauthorized electronic transfer (EFT)
Overdraft Fees
Banks are not permitted to charge an overdraft fee without first getting permission from the customer
Bank Disclosure Requirements
There are various federal laws and regulations relating to deposit compliance. There also are requirements for initial disclosures that must be given to new customers, periodic disclosures after the account is opened, error resolution procedures, and restrictions on advertising. Regulations governing these include:
Customer Identification Procedures
Customer Due Diligence
Regulation D: Deposits and Transfers
Regulation E: Electronic Funds Transfer Act
Regulation CC: Expedited Funds Availability Act
Regulation DD (TISA): Truth-in-Savings Act
Fair Credit Reporting Act Deposit Issues
Responding to Customer Complaints and Inquiries
Bank Sales of Insurance
Unfair, Deceptive, or Abusive Acts or Practices (UDAAP)
Share on Facebook
Share on Twitter