Cyber Security Training Courses
Cyber Security Training Courses
Ransomware and Cyber Extortion cases are on the rise, with billions of dollars in losses from criminals leveraging malicious software and cyber extortion techniques on financial institutions and their customers.

Our training sessions provide best practices for your financial institution in identifying and stopping these problems and for helping with your cyber security preparedness.

What You'll Learn From Our Cyber Security Training Courses:
The latest trends in cyber crime

Cyber crime statistics

Best practices to help protect your financial institution

How infections begin

Process of Ransomware

Best Practices for Incident Response

High profile cases

Technology Best Practices

Leveraging the Information Security Program

Review FFIEC Guidance

How to update you Information Security Program and related policies, plans, and programs
Find Cyber Security Training Courses Online And On-Demand
To find your desired online Cyber Security training courses, either select a Recommended Course from the list below, or select "Cyber Security" and your state from the "Professional Development" section of the search box at the bottom of this page.
Recommended Training Courses: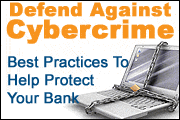 Online Training Courses
Webinars Or Audio Conferences
Find Seminars, Webinars, And Online Training In Your Area
Share on Facebook
Share on Twitter