Chartered Alternative Investment Analyst (CAIA)
Best-Selling Training Courses:
Self-Study Materials
Become A Chartered Alternative Investment Analyst!
Searching for CAIA training? Then you've come to the right place!

Why Pursue the CAIA Designation?

Employers and clients alike will demand experienced, trustworthy professionals with working knowledge of the Alternative Investment industry. The CAIA designation is recognized globally as the benchmark for analysis, application, and standards of practice in the alternative investment arena.

The Chartered Alternative Investment Analyst program's diverse curriculum appeals to investment advisors, consultants and analysts, fund managers and administrators, accountants, lawyers, academics, and compliance and back office personnel.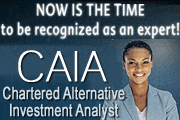 Curriculum

Candidates must pass an examination for the following courses to achieve CAIA Certification:
CAIA Level I

CAIA Level II
Average study time is 150-200 hours for Level I and 200 or more for Level II.


Recommended Training Courses For The CAIA Designation
BankTrainingCenter.com offers CAIA training and certification courses for those individuals who are interested in earning the prestigious Chartered Alternative Investment Analyst (CAIA) designation.

Simply select any of the recommended courses below, or search under "Designations/Certifications" in the search box thereafter for "CAIA - Chartered Alternative Investment Analyst".

Best-Selling Training Courses:
Self-Study Materials
Find Seminars, Webinars, And Online Training In Your Area
Examination Requirements
The Level I exam lasts 4 hours, and consists of 200 multiple-choice questions. Level II lasts 3.5 hours, and consists of 100 multiple-choice and several essay questions.

Exam windows for each level are held in March and September of each year.

Registration for the March Exam is open mid-October through the end of January. Registration for the September exam is open early April through early August. Early registration periods take place during the first six weeks of registration. During this time, candidates will receive 10% off their registration fees. Registration is exam-specific and cannot be transferred to future exam sessions.

There is a registration section on the CAIA Association's webpage where you will register for the exam. You are required to create an account before you are allowed to register.

After registering for a CAIA exam, you will receive a confirmation email from CAIAA that will explain how to schedule your exam appointment. You will be asked to choose a testing center from a list of available sites, as well as a specific date and time within the two-week exam period for which you are registered. For a current list of domestic and international testing centers, see Exam Locations.

There is a one-time program enrollment fee of $400, applicable exam fees.
Membership Requirements for CAIA Designation
Completion of the CAIA Program - Candidates must pass the Level II exam within 3 years of passing the Level I exam to qualify for the CAIA designation.


Professional Experience - Designees must have one of the following:



Over one year of professional experience (full-time employment in a professional capacity within the bank regulatory, banking, financial, or related fields) and a U.S. bachelor's degree (or equivalent)

Four years of professional experience (as described above).



Execution of the Member Agreement - Qualifying candidates must complete the online Member Agreement, provide two (2) professional references, and submit their annual membership dues ($250).

Additional Requirements
There are no prerequisites or continuing education required for earning the Chartered Alternative Investment Analyst designation.
Share on Facebook
Share on Twitter