CFPB Compliance Training Courses
There are many CFPB (Consumer Finance Protection Bureau) rules that apply to lending.

Whether you report to one or all four of the National Credit Reporting Agencies (NCRA), you are required to comply with the Fair Credit Reporting Act (FCRA) and the Fair & Accurate Credit Transaction Act (FACTA) amendment as well as the new tougher Consumer Financial Protection Bureau (CFPB) standards.

Our informative CFPB training courses will benefit Loan Officers, Underwriters, Collectors, Compliance Officers, Auditors, Credit Administrators, Risk Managers, Fair Lending Officers, and Senior Management to better understand their financial institution's requirements under CFPB.

CFPB Training Course Learning Objectives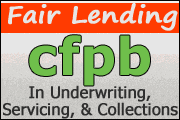 There are the six compliance program risk factors in Fair Lending. What can you do to mitigate this risk and prevent being a high risk institution?

How can an effective internal Fair Lending review help detect problems before the examiners arrive?

Are there any potential Fair Lending issues in the way that your financial institution is handling loan servicing and the collection process?

What does the required "ability to repay" documentation show about how your financial institution makes, prices, and documents a lending decisions?

What should you know about the interagency Fair Lending examination procedures used by the OCC, FDIC, and Federal Reserve?

Do your servicing and collection procedures address concerns about SCRA violations and the special protections available to active duty service members?

What are the top complaints filed by consumers against Financial Intitutions?

Do you need to respond to every complaint?

How soon do you need to respond - the time requirements?

Taking complaints over the phone, in person, over the web: who, when, and how!

Should you consolidate all complaints into one central place or should we route to each department, branch, etc.

Are all complaints and customers equal? When should we expedite the complaint? Who makes that decision?

What does the CFPB consider "reviewing all relevant information?"

What if we are a community bank and are not regulated by the CFPB?
Find Other CFPB Training Courses
To find your desired HMDA training courses, either select a Recommended Course from the list below, or select "CFPB" and your state from the "Professional Development" section of the search box at the bottom of this page.