Licensing
For Mortgage Licensing (Safe/NMLS)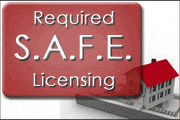 The SAFE Act established requirements for the licensing and registration of all Mortgage Loan Originators through the NMLS Registry.
To become a licensed Mortgage Loan Originator, SAFE requires that you complete at least 20 hours of pre-licensing education and pass an exam.
View
SAFE Licensing Courses
For Securities Licensing
Depending on your type of license, a Securities License permits you to sell stocks, bonds, mutual funds, options, and other investment instruments.
Click here to view
Series 6, Series 7, and other types of securities licensing
For Insurance Licensing
There are three types of insurance licenses: Life and Health; Property And Casualty; Adjuster, as described below.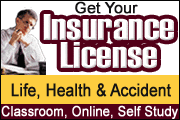 Life And Health Licensing

Earning a life and health insurance license permits you to sell life and health insurance in your state, either as an independent agent or on behalf of an insurance agency.

Click here for state-specific information on earning your Life Insurance License, Health Insurance License, or Variable Annuity License


Property And Casualty Licensing

A P&C license allow you to sell home, car, boat, and other types of insurance. You must take a pre-licensing course and pass your state's exam to earn this license.

Click here for information on selling property and casualty insurance in the United States.


Adjuster Licensing

Claims adjusters are insurance professionals that handle property, damages, or personal injury claims. Their primary responsibilities include examining claims, negotiating settlements, and approving or rejecting claimant payments.

Click here for more information on earning an Adjuster License.