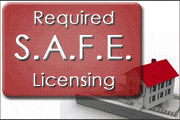 Training Courses For Your Home, Commercial, Appraisal, And Other Lending Needs
The Bank Training Center offers a wide variety of training courses for Home, Commercial, Appraisal, and other Mortgage Lending needs.
Licensing Requirements: Safe / NMLS
SAFE standards and mandates are required in all states starting in 2011. SAFE requires states to establish minimum rules and standards for the licensing and registration of mortgage loan originators. This allows easy access to a Loan Officer and Mortgage Broker's credentials and allows the public to know what kind of mortgage history these providers have.
The National Mortgage Licensing System (NMLS) is the governing body associated with SAFE. Under the SAFE Act, Loan Officers and Mortgage Brokers are required to take the SAFE course. NMLS training satisfies the requirements needed to originate mortgage loans.
Lending Types
Related Training
Find Training Courses For Home, Commercial, And Other Mortgage Lending Needs
Since there are so many different types of training courses for lending, we suggest you select "Lending" and your state from the "Professional Development" section of the search box at the bottom of this page.