Speed Reading With Evelyn Wood Reading Dynamics®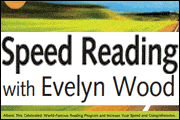 Seminar: ID# 1003640
Pricing: $149.00
About This Course:
Become Faster And More Accurate
When it comes to reading faster and remembering more of what you've read, there's just no program comparable to Evelyn Wood Reading Dynamics!
Designed to focus on the needs of executives, upper-level management, and busy professionals, this breakthrough program is a must-attend event for anyone wishing to boost productivity, work smarter, and process written information more quickly.
As business executives know all too well, time is a precious commodity - there's never enough, and what you do have, you need to use wisely and to your best advantage. As a leader in today's corporate arena, you must be prepared to manage and process information; make swift, informed decisions to drive your organization forward; and remain on top of competitor strategies, changing trends, and new technologies.
With so much critical information being presented in reading material, slower readers are at a decided disadvantage when it comes to keeping on top of all the documents that cross their desks in an average workday.
The Program Of Choice For Leaders In Every Field
Today's most respected leaders have taken advantage of the powerful benefits of Evelyn Wood Reading Dynamics. U.S. presidents, cabinet members, heads of state, legislators, Fortune 500 executives and CEOs, judges, scientists - graduates of this program are found at the top of every field.
Research has shown that business professionals spend up to three hours, or 38% of their day, reading through business-related documents. That leaves less than two-thirds of the day to devote to more productive tasks.
This seminar covers all aspects of reading productivity, and is geared especially to the needs of time-deprived executives and business leaders.
We'll address business reading, technical reading, note taking, and memory skills, as well as organizational skills and controlled reading time.
This proven program will free up much of the time you're spending on reading, re-reading, and laborious note taking. With the skills, tools, and techniques you'll master here, slow reading, poor comprehension, and low retention are all a thing of the past.
Continuing Education Credits:

Click the 'Credits' tab above for information on PHR/SPHR, PDCs, and other CE credits offered by taking this course.