Series 6 Exam Prep
Best-Selling Training Courses: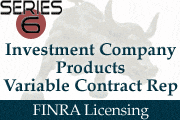 Online Training Courses
Instructor-Led: Webinars
How To Earn Your Series 6 License
If you are looking to becoming a Financial Advisor, then you probably are wondering how to pass the Series 6 exam, how much you need to study for it, where you might find some Series 6 exam practice questions, and what are some tips that will increase your chances of obtaining the Series 6 license on your first try?

About The Series 6 License

The Series 6 license is known formally as the Limited Representative Securities License and is a FINRA requirement for those wishing to sell investment products such as variable annuities, mutual funds, and unit investment trusts.

Please note that in order to earn your Series 6 license, you'll need to pass the Securities Industry Essentials (SIE) examination as well as the Series 6 Top-off exam. You won't need a sponsorship to take the SIE exam but to take the Series 6 exam, you must be sponsored by a FINRA member firm or a self-regulatory organization (SRO).

Bank Training Center provides numerous Series 6 exam preparation courses - such as Series 6 classes, online Series 6 prep courses, and self-study packages - all of which include a Series 6 study guide and Series 6 practice exams that will teach you how to pass Series 6 test and earn your Series 6 license.

About Your Series 6 Exam
To earn your Series 6 license, we recommend you first take the SIE course, then a Series 6 pre-licensing course. Your Series 6 pre-licensing course can be either in seminar, online, self-study, or interactive formats
Candidates are required to have a Series 6 sponsor to be eligible to sit for the exam
Exams for your Series 6 license can be scheduled at any Prometric test center nationwide
Average preparation time for the Series 6 exam is 60-80 hours, so if taking in in-person class, make sure to have enough study time prior to attending the in-person session
Recommended Series 6 License Training Courses
To find training for earning your Series 6 license, including Series 6 exam preparation or Series 6 practice exams, simply click on any of the recommended courses below, or search under "Licensing/Designations" in the search box thereafter for "Series 6".

Good luck on your Series 6 exam!
Best-Selling Training Courses: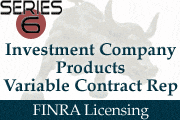 Online Training Courses
Instructor-Led: Webinars
Find Seminars, Webinars, And Online Training In Your Area
About The Series 6 Exam
The Series 6 test evaluates candidates' knowledge and skills related to the duties of an investor and variable contracts products representative. Specifically, it covers the job functions of a registered representative, including: variable contract products, unit investment trusts, communications with the public, evaluating customer financial information, and the four main sections that detail an investment company's four main job functions; namely:
Seeking Business for the Broker-Dealer From Current and Potential Customers
Opening Accounts After Receiving and Evaluating Financial Profiles and Investment Objectives
Providing Customers With Information and Recommendations Concerning Investments and Assets
Obtaining and Verifying Purchase and Sale Instructions and Completing Transactions
Series 6 Exam Requirements and Information
The FINRA Series 6 examination is a national test and does not vary by state.
Number of Items: 50
Format: Multiple Choice
Duration: 90 minutes
Passing Score: 70%
Share on Facebook
Share on Twitter