Series 27 Exam Prep
Best-Selling Training Courses: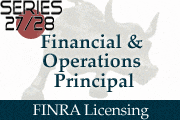 Self-Study Materials
How To Earn Your FINRA Series 27 License
If you are looking to enhance your career in the financial services industry, then you probably are wondering how to pass the Series 27 exam. How much do you need to study for it, what material is covered in the exam, and what are some tips that will increase your chances of obtaining the Series 27 license on your first try?

About The Series 27 License

The Series 27 license is known as the Financial and Operations Principal license, administered by FINRA, and is designed to test a candidate's knowledge and understanding of financial responsibility rules and recordkeeping requirements.

Covered supervisory activities include the following:
Back office operations
Preparation and maintenance of a member firm's books and records
Compliance with financial responsibility rules that apply to self-clearing broker-dealers and market makers
Bank Training Center provides numerous Series 27 Exam prep courses - such as Series 27 Seminars, Series 27 Online Courses, and Series 27 Self-Study Packages - to help you pass your Series 27 exam and earn your Series 27 license.

About Your Series 27 Exam
Your Series 27 exam prep can be taken via in-person seminar, online, self-study, or interactive formats
Recommended study time is 25 hours for the course materials, plus several additional hours to take the sample Series 27 exam prep practice questions
Candidates are required to have a Series 27 sponsor to be eligible to sit for the exam.

Exams for your Series 27 license can be scheduled at any Prometric test center nationwide
Recommended Series 27 Courses & Available Training Options
To find training for earning your Series 27 license, including Series 27 exam preparation or Series 27 practice exams, simply click on any of the recommended courses below, or search under "Licensing/Designations" in the search box thereafter for "Series 27".

Good luck on your Series 27 exam!
Best-Selling Training Courses: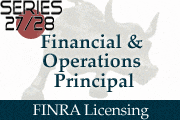 Self-Study Materials
Find Seminars, Webinars, And Online Training In Your Area
Series 27 Exam Requirements and Information
Number Of Questions: 145
Duration: 225 Minutes
Format: Multiple Choice
Passing Score: 69
Cost: $120
You do not have to be sponsored by a FINRA member firm or other applicable self-regulatory organization (SRO) member firm to be eligible to take the Series 27 exam.
Series 26 Exam Outline
The FINRA Series 27 exam is broken into five major parts:
Financial Reporting
Operations, General Securities Industry Regulations, and Preservation of Books and Records
Customer Protection
Net Capital
Funding and Cash Management
Share on Facebook
Share on Twitter