IT Auditing And Controls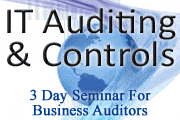 Seminar: ID# 1003293
Pricing: $1,833.00
About This Course:
This intensive, three-day seminar outlines the concepts of information technology you need to know in order to understand the audit concerns in the IT environment.
You will learn the necessary controls for application systems - the session pinpoints specific controls to evaluate when auditing currently installed systems, new systems under development, and the various activities within the information technology department.
In addition, you will learn techniques for auditing automated systems and examine the impact of Sarbanes-Oxley on IT audit.
You will leave this session with a solid foundation in the basics of information technology as they apply to audit and security concerns. (Note: This seminar covers topics found in Chapters 1, 4, 5, and 6 of the CISA Review Manual)
What Does "IT Auditing And Controls" Refer To?
IT auditing is the examination of a company's various information processing systems and related systems to make sure they are in legal and regulatory compliance. The controls are the people or systems put in place to keep the IT systems working in a correct and compliant fashion. IT controls may be general controls such as controls over computer operations and access to data, or application controls, controls that ensure the full and correct input and output of data transmission.
What Is Sarbanes-Oxley, And How Does It Affect IT Audits?
If you are in the auditing field or connected to it, you are probably familiar with the Sarbanes-Oxley act of 2002 (SOX). This is the act stipulating that any company's financial reports need to include an internal controls report illustrating that the financial data of the company is accurate and that there are proper controls in place to protect that financial data.
What does this have to do with IT audits? It is typically IT systems that generate a company's internal controls. SOX includes IT assets under the category of internal controls that must be presented as part of a company's financial report. That means a SOX IT audit must look at all computers and related hardware, networks and any other electronic equipment the company's financial data may go through.
Specifically, under SOX, you must audit IT security controls, physical and electronic access controls, data backup controls, including off-site and other third-party backup systems and any system change controls - adding or deleting new users or hardware to the network, changes to database infrastructure, etc.
Our IT Auditing and Controls Course can help you learn how to effectively audit all of these controls in such a way as to satisfy Sarbanes-Oxley.
Why Do I Need An IT Auditing And Controls Course?
You may wonder why you need an IT Auditing and Controls seminar if you have already taken IT auditing classes and/or have a background that includes IT auditing and controls training. Having a complete and comprehensive understanding of all the processes surrounding IT auditing can be challenging. There is a great deal of information to be had and much of it is constantly evolving.
By taking our IT auditing and controls course, you can help ensure you are on top of the most important developments with regard to IT security, Sarbanes-Oxley, database and network technology. You'll also learn about related controls and other processes you need to be in command of to be an effective IT auditor.
Overview Of The Agenda
Below is a partial listing of this course's agenda. Please click the "Agenda" tab at the top of this page to view the complete agenda.
Planning IT Audits
IT Basics
Planning The IT Audit
Audit & Control Frameworks and Standards
Database Technology and Controls
Network Technology and Controls
IT Governance
IT General Controls
Business Application Controls
Bonus:
You will receive a copy of MIS' Information Technology & Audit Acronym Dictionary, defining hundreds of IT terms and acronyms.
Dates & Times:
Classes start on the date(s) posted herein, and run from 8:30am to 5pm daily, except for the last day of class, which ends at 3pm.
Top FAQs
What Is An Audit?
An audit is a systematic and independent examination of books, accounts, statutory records, documents and vouchers of an organization to verify the financial statements and non-financial disclosures. An audit can apply to an entire organization or might be specific to a function, process, or production step, and might include an on-site verification, such as inspection or examination.
What Is An Auditor?

Auditors examine financial records and statements to determine the validity of information, and to check for fraud. They also ensure that individuals, companies, and government agencies are compliant with tax laws.
What Are The Various Types Of Audits?

Types of audits include internal, external, forensic, public, tax, and information systems. Internal auditors typically examine issues related to company business practices and risks.
What Does An Auditor Do?

Among other things, an auditor helps an organization ensure that its financial records are accurate, applicable laws are followed, and taxes are paid properly and timely.
Continuing Education Credits:

Click the 'Credits' tab above for information on PHR/SPHR, PDCs, and other CE credits offered by taking this course.