Developing Emotional Intelligence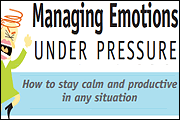 Seminar: ID# 1003610
Pricing: $149.00
About This Course:
Boost your emotional intelligence...enhance your workplace relationships...and turbo-charge your career!
There's a lot of buzz centered around emotional intelligence in the workplace right now, and with good reason. Cutting-edge research into emotional intelligence has shown that it plays a critical role in higher productivity, performance, and job satisfaction.
People who have a high level of emotional intelligence are more confident, more capable, and earn greater respect from their colleagues. They are also better able to stay calm, flexible, and focused when workplace crises hit and panic threatens to set in.
What Exactly Is "Emotional Intelligence"?
Quite simply, emotional intelligence is a set of competencies that enhance your ability to relate positively to others in the workplace. People with high emotional intelligence are adept at using empathy and constructive communication to create a collaborative, cooperative work environment.
They naturally relate well to others; are able to accomplish more through encouragement and persuasion; and excel at inspiring, guiding, and leading others to achieve their best work. As performers, they tend to be flexible, adaptive, self-motivated, and confident.
If you're looking for a way to improve your relationships across your organization, understand how and why others behave the way they do, and achieve greater success in all your job-related endeavors, this seminar is one you don't want to miss.
Unlike your IQ, which is set by the time you are a teenager, your emotional intelligence (EQ) can be improved upon throughout your lifetime. When you attend Developing Emotional Intelligence, you'll gain the knowledge and skills you need to transform the way you interact with and respond to others.
How Does Emotional Intelligence Correspond To Workplace Success?
Studies have shown that emotional intelligence can have a profound effect on a person's ability to create more rewarding, collaborative, and satisfying workplace relationships.
This, in turn, leads to greater productivity, reduced stress and anxiety, higher levels of performance, and a greater sense of teamwork and camaraderie - all critical components of a successful, productive workplace.
When companies hire based on emotional intelligence competencies - like initiative, self-confidence, and leadership - turnover rates drop, productivity levels rise, and profits tend to increase.
Super-Effective For Team Environments!
Team dynamics depend on high levels of emotional intelligence, and what you learn here will give you the skills, tools, and strategies to help any team function more effectively.
You will learn to communicate more openly, deal constructively with resistance and disruptive team behavior, and understand the triggers that spark both positive and negative reactions. Whether you are a team leader or a team member, the skills you'll master will make team meetings, projects and presentations, discussions, and collaboration that much easier.
What You'll Learn:
Evaluate your current level of emotional intelligence
Identify your communication strengths and weaknesses
Overcome personal beliefs that might be holding you back
Understand how your emotions affect others - and how their emotions affect you
Continuing Education Credits:

Click the 'Credits' tab above for information on PHR/SPHR, PDCs, and other CE credits offered by taking this course.