Searching for CSA training? Then you've come to the right place!
The Certified Senior Advisor (CSA) designation is the leading professional credential for persons seeking to work more effectively with their senior clients. The CSA designation signifies that a certificant has attained the broad-based knowledge of the health, social and financial issues that are important to seniors, and the dynamics of how these factors work together in seniors? lives.
Professionals from many walks of life have added the CSA designation to their credentials. They?ve learned how incredibly gratifying it is to help seniors achieve their goals, and the seniors they?ve helped have learned how important it is to work with someone who truly understands their age-related circumstances. The result is successful professionals, and satisfied seniors.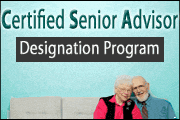 Curriculum
Candidates must complete four components of the CSA Education:
Component I - (6-10 hours total)

The Critical Issues in Aging online series, includes three courses with multiple-choice exams of ten questions each:

Series 1: Health - Supporting Seniors? Personal Health Care Decisions

Series 2: Financial - A New Approach to the Challenge of Financing Longer Life

Series 3: Social - Quality Caregiving: Making Ethical Choices Throughout Life


The CSA's Role, Rules and Responsibilities one online course with a multiple-choice exam of 20 questions, covering the topics listed below:

Definition of the ethical and functional nature of the CSA's role

The CSA Code of Professional Responsibility

SCSA Membership Rules



Components II and III - (20-25 hours total)

Complete the following Pre-Study items:

The CSA Textbook, Working with Seniors: Health, Financial, and Social Issues

The Participant Workbook review questions (pre-test)



Component IV

Complete the CSA Designation Program and pass the Designation Exam. The CSA Designation Program is offered in four training formats: Classroom, Self-Study, Self-Study with Fast Start, and Online.
Examination Requirements

The CSA Designation Exam is administered differently for the four methods of study. Classroom students take the test on the Saturday following their culminating CSA class. Self-Study, Self-Study with Fast Start, and Online students take a closed-book, online proctored exam. A passing score of 70% or better is required.

Self-Study and Online candidates must also submit a one-page report, detailing a personal interview that they conduct with a professional who works with seniors. Classroom and Fast Start students are not required to meet this requirement.


Additional Requirements

Candidates must adhere to an application process for the CSA Designation Program, completing the CSA Information Profile and Disclosure Questionnaire. The Questionnaire is both a screening tool and an acknowledgement of an applicant?s agreement to comply with the CSA Code of Professional Responsibility and SCSA Membership Rules once the designation is earned.

After completing the program, candidates must acknowledge understanding of, and agree to comply with, the CSA Code of Professional Responsibility and the SCSA Membership Rules by signing the Acknowledgment and Acceptance Form and submitting it to SCSA.


Designation Maintenance Requirements

Candidates who successfully complete all program requirements and pass the CSA Designation Exam become Certified Senior Advisors and members of Society of Certified Senior Advisors? (SCSA). There are three requirements for annually renewing the CSA designation:
Complete the CSA Membership Renewal Statement

Submit the annual renewal fee of $195

Fulfill the CSA Continuing Education (CSA CE) requirement of 18 CSA CE credits, every three years