Consumer Loan Training Courses
Best-Selling Training Courses:
Instructor-Led: Webinars
Online Training Courses
Instructor-Led: Webinars
Consumer Loan Training Courses
Tame those scary real-estate loan problems with our consumer loan training courses!
With our consumer loan and loan processor training courses, you will learn the basics of consumer lending and loan processing, including the various types of loans, the various lending requirements, and the requirements and best practices for loan processing.
Specificall, you will learn about loan structure, loan support, and documentation issues that are an intricate part of the consumer lending process, as well as Reg B, Reg Z, TRID, BSA, and Fair Credit Reporting.
Learning Objectives: Consumer Loan Training Courses
Income Calculations and Documents
Employment
Debt Structure
Credit Review
Ratios
Compensating Factors
Truth in Lending
TRID requirements
RESPA
HMDA (including the 2018 applicability rules)
Reg B
Flood insurance
Appraisals and evaluations
FACTA credit score disclosures
Insurance disclosures
Military Lending Act
Learning Objectives: Loan Processor Training
While Loan Officers are responsible for generating loan business and taking the initial loan application, Loan Processors typically do the hard work of double checking the paperwork, correcting any errors, and corresponding with the underwriter to make sure the loan is approved.
Essentially, once a loan is originated by the mortgage broker or loan officer, the corresponding paperwork is sent along to a loan processor. The loan processor is then responsible for prepping and organizing the file and getting it over to the bank or mortgage lender for approval.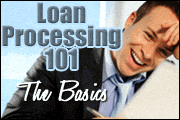 This work includes:
Organizing the loan application's documentation and makes sure it is in order

Reviewing the loan package as given by the lender for completeness and accuracy

Verifying the borrower's credit history in terms of debts and payments

Checking appraisal and property issues requiring further justifications

Determining if the application and ensuring requirements and paperwork comply with the lender's standards

Contacting the borrower if information is missing or if additional information or documentation is required
Best-Selling Training Courses:
Instructor-Led: Webinars
Online Training Courses
Instructor-Led: Webinars
Find Seminars, Webinars, And Online Training In Your Area