Training Courses For Handling Trusts And Estates
As industry regulations have changed over time, banks have become more apt to offer a full range of services for their clientele; thus it is not uncommon for banks to feature what is either referred to as a Trust Department or Estate Administration Department. This area of the bank settles estates, administers trusts, and provides estate planning advice to its affluent clients.
As such, this department often is a very desired place for bank employees to advance their careers. Although there are no particular licensing requirements one must complete to work in trusts and estates, our specialized trust officer training and estate planning courses can give you the training you need to succeed, plus allow you to achieve estate planning certifications or designations. Bank Training Center offers customized solutions specific for your career stage, needs, and more!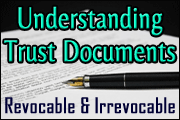 Enjoy a successful Trusts and Estates career when you invest in estate and inheritance planning training now...
Find Trusts & Estates Training Courses
To find your desired training courses for Trusts & Estates, either select a Recommended Course from the list below, or select "Trusts & Estates" and your state from the "Professional Development" section of the search box at the bottom of this page.