TRID Compliance Training Courses
TRID, short for TILA-RESPA Integrated Disclosure Rules, requirements continue to evolve, and dealing with revised disclosures has become one of the major challenges of TRID compliance.

Anyone in the institution having responsibilities in the consumer mortgage environment, including loan officers, processors, clerks, and closing agents, can benefit from our TRID training courses!

TRID Training Course Learning Objectives

Below are just a few of the areas you will learn abuot from our TRID training courses: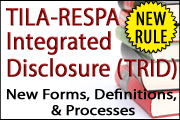 What?s the TRID loan purpose, and what does it mean?

Sales Price vs. Property Value

Rate Lock Guidance

Projected Payment Section Clarifications

Itemizing Charges the Consumer Will Pay vs. Will Not Pay

Prepaid Misconceptions

Cash to Close in Plain English

The timing and delivery requirements of the Loan Estimate and the Closing Disclosure

When a revised Loan Estimate may be issued; including situations such as changed circumstances, borrower requests, and expiration of terms

When a revised Loan Estimate should be issued

The timing and content rules for a revised Loan Estimate and for a revised Closing Disclosure

When estimates are considered to be "in good faith" and the applicable tolerances

The circumstances under which a revised disclosure resets the allowed tolerance

Changes before consummation that do or do not require a new waiting period

Whether a changed circumstance can occur after delivery of the Closing Disclosure

Rules regarding changes due to events occurring after consummation

When refunds are required and how to make and disclose the refund

Changes before closing - is a new waiting period required?

Documentation requirements for revisions

Pre-disclosure requirements

Handling Date Issued vs. Date of Receipt Discrepancies

Tolerances and Good Faith Analysis

How mishandling revised disclosures may result in UDAP/UDAAP violations
Find Other TRID Training Courses
To find your desired TRID training courses, either select a Recommended Course from the list below, or select "TRID" and your state from the "Professional Development" section of the search box at the bottom of this page.