Teller Training
Bank Teller Training Courses
Give your tellers what they need - better bank teller education programs to increase efficiency and productivity!

Everyone wants to do the best job possible - and bank tellers are no exception. BankTrainingCenter.com offers a wide array of helpful training courses that will help your tellers through a variety of situations and improve your organization's bank teller productivity.

Start Your Bank Teller Training Today!

Your branch's tellers are the front line of your business and hold the most responsibility for your customer service ratings. Initiate the right bank teller training programs for your branch today, and you'll see a difference in bank teller productivity, efficiency, and morale right away!

Here is just some of what you will learn with our teller training courses: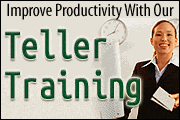 Customer Service Success Skills
Product and Service Knowledge
Communication
Problem Resolution
Task Orientation and Time Management
Persuasive Abilities
Flexibility
Work Ethic
Professionalism
Confidence
Leadership
Common errors on CTRs
Red flags for money laundering
When to hold funds
Communication with a BSA officer
Recommended Teller Training Courses
To find bank teller training courses, simply select one of the recommended courses below, or choose "Bank Teller" from the "Professional Development" section of the following search box.
Recommended Training Courses:
Webinars Or Audio Conferences
Find Seminars, Webinars, And Online Training In Your Area
Share on Facebook
Share on Twitter