Safe Deposit Box Training Courses

Did you inherit the safe deposit area and then start wondering what liability might exist? Historically this responsibility has been routinely passed from employee to employee with very little attention given to existing procedures or documentation. Unfortunately, only after a loss occurs does management turn its attention to this area.

Questions about self-service boxes, deceased renters, living trusts, past due boxes, Suspicious Activity Reports, and other legal, liability, and compliance topics have caused great concern and confusion for the safe deposit industry. So get trained on how to handle these issues!

What You'll Learn From Our Safe Deposit Box Training Courses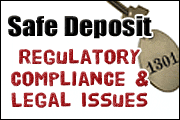 Why should renters be provided with a "No Insurance" disclosure form?

What liability exists if access is allowed "before or after" lobby hours?

Can money, guns or drugs be legally stored inside a box?

How can renters access boxes 24 hours a day, 7 days a week?

Can you add a "Payable on Death" or "Living Trust" to a contact?

Why must all box renters receive a "No Insurance" disclosure form?

What current safe deposit burglaries are TV reporters now covering?

How can proper vault closing procedures eliminate overnight guests?

Who can legally enter a deceased (single) renter's box in most states?

How can incorrect box drilling procedures make a box renter very rich?

What seven suspicious safe deposit transactions always trigger a SAR?

How does the USA Patriot Act affect all safe deposit areas nationwide?

What BSA & SAR violations are compliance examiners finding today?

What should we do if dangerous content are found in a past due box?

When are box contents sent to the Unclaimed Property Department?
Find Call Report Training Courses

To find your desired Safe Deposit Box training courses, either select a Recommended Course from the list below, or select "Safe Deposit Boxes" and your state from the "Professional Development" section of the search box at the bottom of this page.