Become A Mortgage Loan Processor!

A Mortgage Loan Processor facilitates the mortage loan application process by validating mortgage loan application information and verifying that the loan application meets established standards.

The mortgage industry has grown over the years as the economy in general and real estate market has prospered. When you take on loan processor training, you can jump on this fast-growing career opportunity and advance your own career!

Mortgage Loan Processors Are In Demand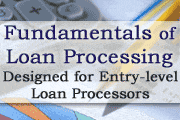 The mortgage industry is an ever-changing market. Whether you are new to the industry or an experienced professional, our mortgage loan processor training courses will give you the foundation you need to establish yourself in the industry, stay abreast of changes and new developments in the marketplace, and advance your career down the road.

Our mortgage loan processor training programs will give you the insider knowledge you need to provide your customers with the best possible mortgage experience. Our customized education modules will give you bothe the basic and advanced training that you need to extend your knowledge of mortgage products and take your career to the next level. And with the flexible online and offline formats, you can take these classes whenever and wherever your schedule permits!

Find Mortgage Loan Processor Training

The Bank Training Center offers multiple training formats, including seminars, webinars, video and audio training, books, CDs, and more so you never lose interest. You can tailor your training to your specific career development and learning needs, and can enjoy the flexibility of training from home, in your car, on your lunch break, or any time you have a moment to dedicate to your career advancement! Select one of our loan processor training modules today and begin advancing your career tomorrow!


Recommended Courses & Available Training Options

To find the loan processor training courses for your training and educational needs, simply select one of the recommended courses below, or choose "Loan Processor" from the "Professional Development" section of the following search box.