Call Report Training Courses
Loan information on the Call Report provides critical credit information for regulators, especially in today's environment.
Additionally, Examiners are reviewing call report schedules in much more detail than in the past as the rules for schedule RC-C dictate how loans are to be reported on all loan schedules, including the income statement, charge-offs and recoveries, averages, past-dues, and non-accruals.
Our Call Report training courses will help you learn the classification priorities for reporting loan information correctly. Learn when to code the loan based on borrower, when to code based on collateral, and when to code based on purpose!
What You'll Learn From Our Call Report Training Courses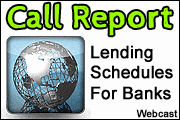 RC-C, Loan Classification

RC-C M1, Restructured Loans

RC-C, Part II, Loans to Small Businesses and Small Farms

RC-K, Loan Quarter to Date Averages

RC-L, Unused Commitments, Letters of Credit

RC-M, Loans to Insiders

RC-N, Past Due and Non-accrual Loans

RC-R, Risk Weighting Loans

RI-B, Charge-Offs and Recoveries

How and when to code loans based on borrower, purpose, or collateral

What qualifies as real estate collateral

When to report a non-farm, non-residential secured loan as owner occupied
Find Call Report Training Courses
To find your desired Call Report training courses, either select a Recommended Course from the list below, or select "Call Reports" and your state from the "Professional Development" section of the search box at the bottom of this page.
Licensing
Earn your License quickly and easily!

Designations/Certifications
Improve your knowledge and industry standing!

Professional Development
Products & Services to help manage and grow your career!

Need training or resources in other areas? Try our other Training Center sites:

HR, Acct., Banking, Insurance, Fin. Svcs., Real Estate, Mortgage, HealthCare, Safety, Sales