Bank Secrecy Act (BSA) Training Courses
Get training to meet your Bank Secrecy Act (BSA) training requirements.
Banks are required to have processes that determine which transactions are potentially suspicious and implement strong BSA compliance program that uses comprehensive Customer Due Diligence (CDD) policies, procedures, and processes for all customers, particularly those that present a higher risk for money laundering and terrorist financing.
What You'll Learn From Our BSA Training Courses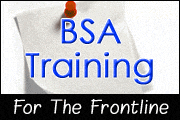 Red Flags for money laundering

Definitions and building blocks for your BSA policy

When it says "policy", "procedure", or "process" in the exam manual - what is the difference?

Things that are exam hotspots in your policy

What is the Board involvement in your policy? Why are somethings better in procedures than in the policy?

Using the FFIEC exam manual to guide you through the process...and much more!
Wires and monetary instrument recordkeeping rules

Customer Identification Rules

Internal Audit requirements

Risk assessing your BSA Officer

How to keep risk fluid in your organization

Customer Identification Programs - changing and evolving your program

Customer Due Diligence and High Risk Customers

Nonresident alien accounts and W-8BENs

Training requirements and things you might not know
Find BSA Training Courses
To find your desired BSA training courses, either select a Recommended Course from the list below, or select "BSA" and your state from the "Professional Development" section of the search box at the bottom of this page.