Anti-Money Laundering (AML) Training Courses

Get training to meet your Anti-Money Laundering training requirements.

Banks are required to have processes that determine which transactions are potentially suspicious and implement strong BSA compliance program that uses comprehensive Customer Due Diligence (CDD) policies, procedures, and processes for all customers, particularly those that present a higher risk for money laundering and terrorist financing.

What You'll Learn From Our Anti-Money Laundering Training Courses

Our anti-money laundering training courses will help you to better understand the what's, how's, and preventitative measures for money laundering, including red flags, customer due diligence, and information-sharing policies.

Specifically, you will learn: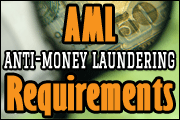 The various red flags of money laundering

The criteria that constitutes a high-risk person, product or service, and geographic location

Customer Due Diligence (CDD)

Information Sharing

Office of Foreign Assets Control (OFAC)

High Risk Persons and Entities

High Risk Products and Services

High Risk Geographic Locations

The role of OFAC and how an OFAC program should be implemented at the institution
Find Anti-Money Laundering Training Courses

To find your desired Anti-Money Laundering training courses, either select a Recommended Course from the list below, or select "Anti-Money Laundering" and your state from the "Professional Development" section of the search box at the bottom of this page.