ACH And Wire Transfer Training Courses
ACH / Wire Transfer Training Courses
Financial Institution examiners are focusing more and more on ACH Compliance. As such, it is imperative that you comply with the NACHA ACH Operating Rules. Non-compliance can cost you not only money, but your reputation.

We provide ACH and Wire Transfer compliance training that is designed to provide you with the knowledge you need to comprehend the compliance requirements associated with processing ACH entries on a day-to-day basis.

What You'll Learn From Our ACH and Wire Transfer Training Courses:
Examine the bodies of law associated with each aspect of processing ACH entries, including the NACHA ACH Rules
Regulation E, and UCC4A

Understand how compliance plays a role in the processing of ACH government entries

Examine the role compliance plays in overall risk management

Discover the impact that compliance has in providing superior customer service

Clarify how compliance improves overall operational effectiveness

Ways to identify exceptions as an RDFI and ODFI and determine the best course of action

Understanding the timeframes for exception processing

Understanding of the new ACH Rules that impact exceptions

Best practices for limiting your liability

An understanding of the importance of using the correct return and NOC code
Find ACH and Wire Transfer Training Courses
To find your desired ACH and Wire Transfer training courses, either select a Recommended Course from the list below, or select "ACH / Wire Transfer" and your state from the "Professional Development" section of the search box at the bottom of this page.
Recommended Training Courses: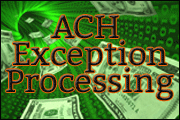 Webinars Or Audio Conferences
Find Seminars, Webinars, And Online Training In Your Area
Share on Facebook
Share on Twitter