Fraud Audit School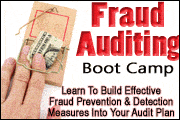 Seminar: ID# 1003310
About This Course:
When it comes to fraud, crime does pay. The Association of Certified Fraud Examiners reports that fraud and abuse cost typical US organizations 7% of revenues. This amounts to $994 billion dollars annually when applied to the US gross domestic product.
Add to this astronomical figure the requirements of Sarbanes-Oxley, HIPAA, GLBA, and PCAOB, and it is clear why finding and preventing fraud is a top priority in today's organizations.

strong>What Is Fraud Auditing?

Although internal auditing involves a lot of different processes, the first and sometimes the only one many people think of when they hear "audit" is fraud auditing. Fraud auditing is the process wherein an internal auditor investigates a business' financial records to root out fraud, rather than to find inefficiencies or errors.

What Is Fraud?

The specific definition of fraud is a false representation of facts, with the result that the individual or company that the fraud is perpetrated on is injured. Fraud is typically a criminal act that carries with it severe penalties.

If the company you work for or anyone connected to it is committing fraud, you need to root it out immediately for the protection of everyone involved. That is why it's so important for an internal auditor to have completed fraud auditor training seminars and courses.

Why Do I Need To Take A Fraud Auditor Class?

It may well be that whatever internal auditor training you have taken to this point includes some information about fraud auditing. Why do you need to add another fraud auditing course to your existing education? Effective fraud auditing requires specialized skills and knowledge of the procedures and pitfalls involved in this area, the type of knowledge you can only get through experience or through a comprehensive fraud auditor training seminar, such as the ones offered by CPA Training Center.

For example, fraud auditors need to understand that there are five elements required to be present for legal fraud:
The person accused of committing fraud must have made a false statement of fact
That person must know that this statement was false
The false statement was part of an intentional deception
Whomever the fraud was perpetrated against must have relied on the false statement
As a result of that reliance, whomever the fraud was perpetrated against must have sustained an injury
A good fraud auditor must know how to be confident that they can prove all these elements when bringing a fraud accusation. They must be able to distinguish between an unintentional error and intentional deception. They must be able to effectively interview as many witnesses as it takes to accurately identify the fraud, witnesses who may be reluctant to cooperate.
For these reasons and more, the more training you get in fraud auditing the better, and our fraud auditor seminar can deliver much of the training you need in this area.
About Our Fraud Audit Seminar
Fraud Audit School is designed to provide you with a thorough understanding of the types of fraud taking place in today's business environment, and the techniques you need to build effective fraud prevention and detection measures into your audit plan.
In four intensive days you will learn fraud schemes typically found in organizations, the red flags of fraud, how to minimize fraud, the impact of internal controls on fraud, and the steps to investigating fraud should it strike your organization. You will learn a proven fraud audit methodology, and cover such high-risk areas as misappropriation of assets, financial statement fraud, and management fraud.
You will focus on fraud detection strategies, the composition of a fraud scheme, fraud risk assessment, and the legal considerations of fraud.
Learning Objectives
Fraud Auditing Defined
Update On Professional Standards
The Realities Of Fraud
Auditing For Fraud
Fraud Risk Assessment At The Enterprise Level
Fraud Risk Assessment At The Audit Level
Financial Statements
Misappropriation Of Assets
Conducting The Fraud Investigation
The Legal Implications Of Fraud Auditing
Fraud Prevention Programs
Prerequisites
: None
Learning Level
: Basic
Who Should Attend:
Financial, Operational, IT, Internal and External Auditors; Audit Managers; Corporate Attorneys; Information Security professionals; Risk Management Personnel and Line Managers who need to gain an understanding of the growing risks of fraud.
Dates & Times:
Classes start on the date(s) posted herein, and run from 8:30am to 5pm daily, except for the last day of class, which ends at 3:30pm.
Continuing Education Credits:

Click the 'Credits' tab above for information on PHR/SPHR, PDCs, and other CE credits offered by taking this course.