Compelling Presentations Training Seminar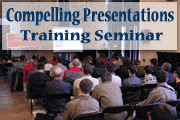 Seminar: ID# 1003050
Pricing:
$2,740.00

Early Bird: $2,440.00
About This Course:
Deliver Compelling Presentations, Not Just Informative Ones
Almost everyone can deliver an informative, sales-oriented, feature-laden presentation. Developing and delivering a successful customer-oriented presentation that wins business is a different matter. These two important elements are combined into a powerful combination designed not only to get your customer to say, "Yes!" but also "How soon?".
Seminar Benefits
Attendees begin the course by delivering a presentation they currently have on their products, or solutions. Over the course of the three-day program, each attendee refines their presentation utilizing feedback from Sales Concepts' instructors and fellow participants. Throughout the class, the keys for developing and delivering successful compelling presentations are explained, evaluated and discussed. Attendees proactively learn as they compete for the Best Presentation award.
You will take away proactively-developed presentation skills for your specific product set that will undoubtedly help you increase your sales and commission levels.
Topics Covered
The Objective: A presentation must have an objective to be compelling

Preparation: Leave nothing to chance, take nothing for granted

Analyzing and Understanding Your Audience: Understand and fulfill their expectations

Content: Build the core of your presentation

The Opening: Win the attention of your audience and hold it

Delivery: Help your audience want to listen to you

Getting Feedback: Confirm that you are compelling

Closing: Finish strong with a call to action

Trends and Additional Resources: What's available and how it helps

Using Technology: Complement, do not distract
Learning Objectives
Attendees will improve their ability to:
Deliver compelling, results-oriented presentations that create action

Exceed client expectations by being alert, flexible and proactive before, during and after their presentations
Our unique training seminar will help you to fine-tune your sales presentation that will help you generate more sales than you thought possible!
AgendaFirst Day
| Preparation
8:00 Introduction: Compelling vs. Informative Presentations
9:00 Guest Speaker
9:30 Impromptu Presentations (Video Recorded)
10:15 Break
10:30 The Objective - If you don't define success you can't achieve it
11:15 Preparation and Planning
12:00 Lunch
1:00 Resources - Being Prepared for the Unexpected
2:00 First Prepared Presentation (Video Recorded)
4:00 Review of First Prepared Presentation
Second Day
| Delivery
8:00 Review of First Day
8:30 Your Image to Others
9:30 The Audience
10:15 Break
10:30 Content
11:00 Opening
11:30 Delivery
12:00 Lunch
1:00 Presentation Modification Workshop
2:30 Break
2:45 Second Prepared Presentation (Video Recorded)
5:00 Video Review of Second Recorded Presentation
Third Day
| Closure, Feedback and Follow-Up
8:00 Review of Second Day
8:30 Closure, Follow Up and Feedback
9:45 Break
10:00 Final Presentation Modification Workshop
11:00 Final Presentation (Video Recorded)
1:00 Course Summary and Presentation of the Best Compelling Presentation Award
1:15 Course Concludes