Bank Internal Audit School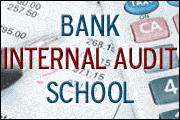 Seminar: ID# 1003571
This course is available in both in-person and video conference formats.
Go to the "Venues/Dates" tab to find a date that is convenient for you.
About This Course:
This comprehensive four-day seminar is designed to provide internal auditors with the critical skills they need to conduct internal audit assignments for financial institutions using internationally recognized best practices.
You will explore the key areas of banking to ensure that they appreciate the risks inherent in the activities conducted and will then identify the best audit approaches to address these risks. Participants will work in teams to build sample audit programs which will be provided to participants at the conclusion of the course.
The course is based on the use of the risk-based approach which is designed to ensure that the auditors' work is both effective and efficient.
By attending this course, attendees will obtain a general understanding of the banking industry and internationally recognized best practice approaches to a range of products, including personal and corporate lending, deposit taking, trade finance and treasury instruments.
Overview Of The Agenda
Below is a partial listing of this course's agenda. Please click the "Agenda" tab at the top of this page to view the complete agenda.
Branch And Representative Office Audits
Deposits And Deposit Taking
Funds Transmission
Clearing Services
Fraud And Money Laundering
Corporate Lending
Security And Provisioning
Private Banking
Investment Banking
Foreign Exchange
Why Is Bank Internal Auditing Important?
The chairman, board of directors, and senior management executives all rely heavily on their internal auditors to verify the quality of their internal controls, risk management processes and government systems. Good auditing protects the reputation and standing of both the bank and its executives. Banks and other financial institutions trade in risk, or more specifically, controlling risk to minimize it as much as possible. That way, they can see big dividends as their institution flourishes.
The bank internal auditor has a critical and sometimes challenging function. They must be independent, keeping the bank's organization and structure as their top priority without succumbing to the temptation to protect any particular employee, entity or system that may be creating a greater risk than is warranted.
The bank internal auditor must have a strong understanding of ethics and be a highly ethical person. The temptation to sidestep ethical considerations when dealing with large sums of money can be great, and a good bank internal auditor must be immune to such temptations.
The auditor must be observant, objective and be able to both generate an informed opinion of the bank's risks and be able to present those opinions as well as possible remedies clearly and plainly to the bank's board of directors and any audit committee the bank has in place. An internal auditor who cannot do this will not be an effective bank auditor, and the bank may suffer greatly as a result.
Why Should I Take A Bank Internal Audit Course?
If you are pursuing a job with a bank or similar financial institution, specific and intensive bank internal auditor training is crucial. There are many internal auditing issues that are specific to banks, and failure to understand them could be catastrophic to the institution you are auditing for.
Most banks and financial institutions understand this, which is why they are unlikely to hire someone without the necessary bank internal auditing training. The future careers of the board of directors or other management personnel may depend on how effectively the bank's internal auditor can their job, so it is quite understandable that their criteria for choosing a bank internal auditor will be quite high.
Our Bank Internal Audit seminar can give you the knowledge you require while also giving potential banking employers the confidence they need to put their internal auditing functions in your hands.
Prerequisites:
None
Learning Level:
Intermediate
Who Should Attend:
Internal, External, and Credit Auditors; Audit Directors and Managers; CAEs; Risk Managers
Dates & Times:
Classes start on the date(s) posted herein and run from 8:30am to 5pm daily, except for the last day of class which ends at 3pm.
Order:
Bank Internal Audit School
Price: $3,095.00
To order this product, find a location and date that is convenient for you under the "
Venues/Dates
" tab.