Advanced Auditing For In-Charge Auditors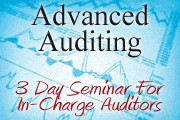 Seminar: ID# 1003290
About This Course:
In this three-day session you will learn all of the elements involved in traditional and operational risk-based auditing from the unique perspective of the in-charge position.
This course covers preliminary fieldwork, audit program development, COSO, risk assessment, and auditing the control environment in today's business climate.
With your peers, you will review such concepts as audit program flexibility, risk assessment, priority setting during fieldwork, and effective oral and written communications of audit findings.
Overview Of The Agenda
Below is a partial listing of this course's agenda. Please click the "Agenda" tab at the top of this page to view the complete agenda.
Responsibilities Of The IA Department
Operational Vs. Financial/Compliance Auditing
Essentials Of Operational Auditing
Project Approaches
Time Estimates
Common Workflow Planning Problems
Audit/Project Leader's Responsibilities
What To Do When You Suspect Fraud
Who Should Attend?
We recommend this seminar for Financial, Operational, Information Technology and External Auditors with two or more years of audit experience.
Continuing Education Credits:

Click the 'Credits' tab above for information on PHR/SPHR, PDCs, and other CE credits offered by taking this course.