In today's regulated and litigious environment, there are numerous things that can get your financial institution in hot water. But don't worry, there's help!
Whether you and/or your team need training for properly dealing with power of attorneys, safe deposit boxes, or trusts, or correctly handling accounts and assets when an account holder dies, the Bank Training Center has legal and risk management training courses for you.
Training For Opening New Accounts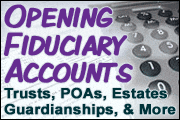 The courses listed below deal with the legal aspects of new account opening procedures such as titling, ownership, TIN, and authorized signers for ownership and death payouts.
Training For More Advanced Legal / Risk Management Concerns
The courses listed below provide training for some of the more advanced situations your financial institution faces every day. They include: