IRA Training Courses
Almost everyone has some type of IRA plan, and being knowledgable on how the rules and types of IRAs can help your financial institution garner more assets while better-serving your customers.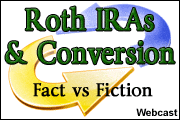 To help, Bank Training Center offers a variety of IRA training courses, including IRA training for the types of IRA plans, some for handling IRA transfers and rollovers, and other IRA training courses on distributions and beneficiaries.
Find IRA Training Courses
Simply select from the list of "Recommended Courses" below, or search for your desired IRA training courses by selecting "IRA" from the "Professional Development" section of the search box below.