Have you been searching for mutual funds training? Perhaps the Certified Funds Specialist (CFS) designation is precisely what you've been seeking.
Bank Training Center offers the CFS training and certification courses for those individuals interested in earning the prestigious Certified Funds Specialist designation.
The Certified Funds Specialist (CFS) designation indicates that a certificant has received advanced training and expertise in mutual funds. Designees are able to evaluate and compare appropriate analytics of the funds when constructing a client's portfolio. Few advisors and brokers really understand how funds interact with other parts of the portfolio, or how this investment vehicle should be analyzed.
CFS is fully accredited and is the oldest designation in the mutual fund industry - created in 1988. Since, over 9,000 members of the financial services community have gone through the program.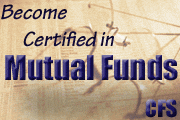 Curriculum
This accredited program is a 60-hour self-study program administered over six modules.
Students are given 12 months to complete the program, but the vast majority of the enrollees complete the materials within a couple of months. There are four requirements for certification:
Pass three exams; each one covers two of the six modules (students can three month-extension for $40)

Complete one open-book case study (a one page set of facts based on a hypothetical client)

Fill out a registration form and complete a student questionnaire, and

Sign a code of ethics
Examination Requirements
Each exam is a 60 minute, 50-question, computer-administered exam - a passing score of 70% is required for each exam. Exams can only be taken sequentially, and the student needs to be notified of a passing grade before sitting for the next exam.
Exams are taken online, with a proctor (disinterested third party). There is no additional exam fee; it is included in the cost of your course tuition. If a re-take is necessary, a $75 charge will apply.
Additional Requirements
To earn this designation, candidates must have at least 2,000 hours of work experience in the financial services industry or a bachelor's degree from an accredited college or university. The designation will not be granted until the required minimum number of hours has been fulfilled or a bachelor's degree has been granted.
Continuing Education Requirements
Designees must complete 15 hours of continuing education, reported once every year. Designees have a wide range of topics and methods to choose from (e.g., attending seminars, reading books, completing other courses, teaching, writing articles, etc.). Also, each year Designees must remit an annual renewal fee.
Recommended Courses & Available Training Options
Bank Training Center offers the convenient self-study program for earning the CFS designation.
Simply select the recommended course below, or search under "Licensing/Designations" in the search box thereafter for "CFS - Certified Funds Specialist".