Searching for CCPS training? Then you've come to the right place!
BankTrainingCenter.com offers CCPS training and certification courses for those seeking the prestigious Certified College Planning Specialist designation.
The purpose of the CCPS certification program is to provide designees with the knowledge and resources necessary to start and manage a successful college planning advisory practice. The CCPS certification is a symbol of knowledge, experience, expertise, and professionalism that will surely differentiate you from other financial advisors.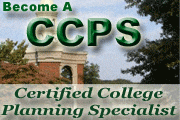 Curriculum
The CCPS is accomplished through self-study; candidates will receive access to online materials that cover the entire curriculum. Candidates must pass the comprehensive competency tests associated with each of the following three modules:
I. Paying for College
Financial aid overview

Student resources, grants, scholarships

Work-study

College loans

Alternative loans

College admission issues

Advanced financial aid topics (EFC worksheet, Federal vs. Institutional Formulas, etc.)
II. Saving for College

Section 529 qualified tuition programs

Coverdell education savings accounts

UGMA/UTMA

Roth and traditional IRAs

Savings bonds

Life insurance

Tax efficient mutual funds

Real estate

Associated financial planning considerations
III. Advanced College Funding Strategies

Academic strategies

Hope and Lifetime Learning Credits

Parent and child tax planning opportunities, implications, and tax capacity

Coordinating investment contributions and withdrawals

Cash flow & creative borrowing strategies

Funding college and retirement at the same time

Parent and grandparent estate planning considerations

Middle and upper income family issues
Examination Requirements
The competency test for each of the three modules is a 30-minute, 40 question, web-based examination. Candidates must answer at least 70% (28 out of 40) of the questions correctly to pass, with test results provided immediately upon the completion of each exam.
Candidates may take the tests at the completion of each module or all at once. The cost of the testing is included in the price of the Program registration. If the candidate does not pass one or more of the modules, he or she will be required to pay a $75 re-test fee.
Additional Requirements
Candidates must ensure that securing, maintaining, and promoting the CCPS Certification is fully compliant with all of their firm's internal operating policies and procedures. Additionally, candidates must meet one of the following pre-qualifying criteria before entering the certification program:
Professional certification/designation (CFP, RFC, ChFC, CLU, CEP, CPA, etc.), or

Professional financial licensing (securities, insurance, any state financial license, etc.), or

A combination of education and experience deemed satisfactory by the NICCP Advisory Council
Ongoing Designation Requirements
A CCPS certification comes up for renewal every year. To renew, a certificant must:
Not be in violation of the NICCP and CCPS's Code of Ethics

Have completed 24 hours of approved continuing education courses

Be current on your NICCP membership dues. Note: Your NICCP membership dues includes the $395 CCPS certification renewal fee.
After your first FREE year, NICCP membership dues are $600 per year- (payable either monthly or annually)

Find Certified College Planner Courses

BankTrainingCenter.com offers the required curriculum study materials for earning the CCPS designation.

Simply select from the recommended courses below.